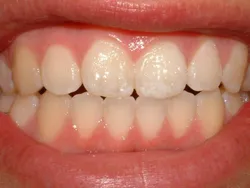 Treatment Performed by Dr. Froonjian
Over time our teeth tend to become discolored or stained. Whether this is from smoking, coffee, or any other foods, a beautiful smile could be closer than you think. We offer a safe, inexpensive solution to an unsightly smile. Whitening your teeth is a very simple procedure that can be completed in relatively short period of time either in our office or at home.
Procedure (In-Office)
Our office utilizes the Zoom! chairside whitening procedure as seen on the television show Extreme Makeover. The procedure for Zoom! whitening is quick and painless. The first step is to isolate the teeth and protect the gums and lips. When this has been accomplished, the whitening gel is placed on the teeth. The gel is activated by a specially designed light that is directed at the teeth. The entire procedure takes just over an hour. The results are usually between 6 and 10 shades whiter.
Procedure (At-Home)
The first step in an at-home whitening process is impressions. We will take full impressions of your upper and lower teeth. These impressions will be made into custom bleaching trays. The trays will fit onto your teeth perfectly so there is a small possibility of gum damage from the bleaching solution.
The second step is to place the bleaching solution in the trays and wear them for a few hours a day. Within 7-10 days, you will see a significant improvement in the color of your teeth. Your smile will look brighter and younger. We will take before and after photos so that you will be able to compare the amazing transformation.
Bleaching only works on natural teeth and may not be effective in all cases. We will inform you as to the potential whitening for your specific situation.