July 2012:
Oradell, NJ's Dental Patients Discover the Benefits of Laser Dentistry from Dr. H. Craig Froonjian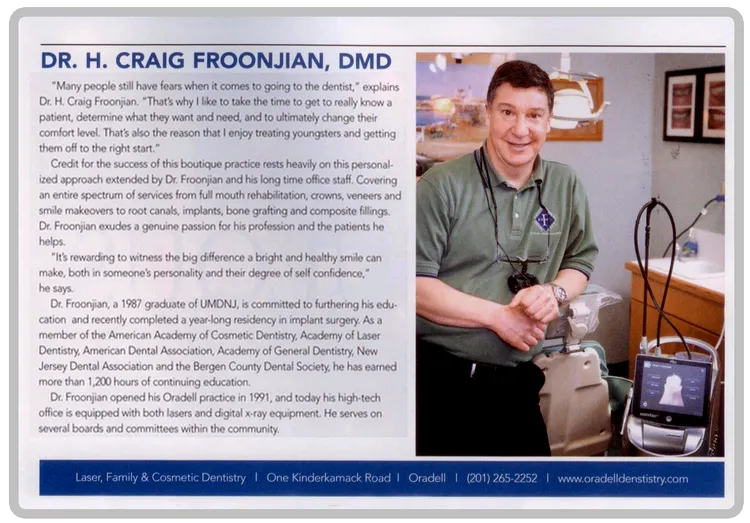 June 2012:
It's here!!! Read the wonderful write-up on Dr. Froonjian in the latest issue of 201 Health.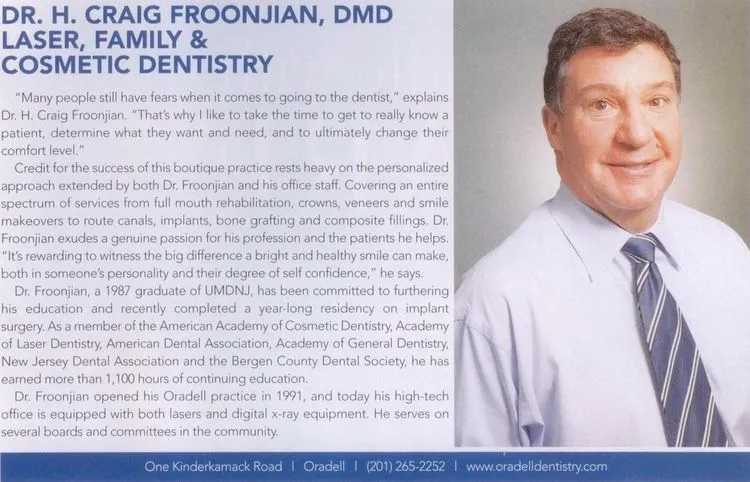 February 2012:
Dr. Froonjian was recently named one of Bergen County's Top Dentist by (201) Health Magazine. He was selected by peers as a leader in the dental community. Read all about Dr. Froonjian in the coming issue of (201) Health in June 2012.
January 2011:
Dr Froonjian began an extensive mini residency on implant dentistry.
The program will cover both the surgical placement and restoration of implants. This will now allow us to provide some of our patients with the convenience of having the entire procedure performed in our office.
October 2010:
Dr. Froonjian recently completed a symposium in new technologies to meet aesthetic demands in Palm Beach, FL. He was one of 30 invited dentists to participate at the meeting, which was held at the Biomet 3i Institute and highlighted new aesthtics advances in implant dentistry.
For more information or a complimentary consultation, please phone our office at (201) 265-2252.